Timber Plantation Shutters
For a timeless look that will enhance and add value to your home.  Plantation shutters offer excellent light control, ventilation and privacy.  For use on windows, sliding doors, skylights, balconies or as a room divider.  Ask for your free in home measure and quote throughout Sydney's North Shore and Northern Beaches.  Phone:  02 9944 8411
Hardwood Timber Plantation Shutters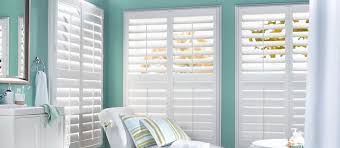 Hardwood plantation shutters are the finest quality for the most discerning homeowners offering durability and longevity. Crafted by hand from select hardwood and finished with a silky smooth pallet of 18 colours and 34 stains.  The timber is treated with prescription wood conditioning, reducing shrinking and expansion.  Louvres are made of quarter sawn wood and mortise and tenon joins to ensure durability and stability.  Reinforced engineered stiles with multiple layers of wood bonded together to reinforce stability from the core of the stile which ensures a robust shutter panel.
Available in specialty shapes such as arches, hexagons, sliding or french doors.  Plus options for fixed, bi-fold and tracked fixtures.
Available blade sizes:   47mm   63mm     89mm     114mm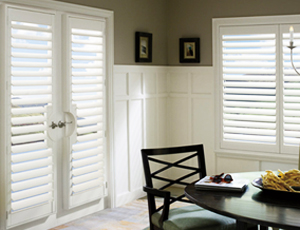 Woodlore shutters will enhance and add value to your home at an affordable price.  Made from a durable composite wood core, wrapped in a tough poly coating which is resistant to fading, staining, splitting, warping and dents.  Woodlore shutters have the genuine look of wood, without the expense.   Featuring a patented polypropylene coating with UV inhibitors, protecting your shutters against colour fading and yellowing. An extensive range of panel and frame designs.  Energy efficient and quality guaranteed.
For internal use only. Available in a choice of 5 classic shades of white.
Aerofoil blades available in:  63mm, 89mm, 114mm
Call 9944 8411 now for a free measure and quote on Sydney's North Shore and Northern Beaches